Skin Script Hydrate and Rejuvenate Kit
Regular price

Sale price

$127.00
Skin Script Hydrate and Rejuvenate Kit
Benefits:
Brightens and tones the tissue
Encourages fibroblast activity
Improves hydration
Balances oils on skin
Plumps the skin
Kit Includes:
Vitamin C/ Green Tea Serum
Skin Hydrating Serum
Retinaldehyde Serum
Suggested skin types and conditions:
Dry Skin & Non Supple
Instructions for use:AM
Cleanse with Green Tea Cleanser
Exfoliate with Retinol 2% Scrub 2-3 times per week
Combine Vitamin C/ Green Tea Serum and Skin Hydrating Serum in hand and massage into skin
Moisturize with Acai Berry Moisturizer
Protect with Coola Classic Face SPF (browse our other product brands)
PM
Cleanse with Green Tea Cleanser
Apply Retinaldehyde Serum
Moisturize with Acai Berry Moisturizer
We incorporate the following ingredients:
L-ascorbic Acid– is a water soluble Vitamin C assists in collagen formation, and strengthens capillaries and cell walls. It is an antioxidant and encourages protein production by supporting processes that support collagen and elastin fibers.
Magnesium Ascorbyl Phosphate— Water soluble derivative of vitamin C, stimulates collagen production, melanin inhibiting properties
Tetrahexyldecyl Ascorbate— Stable, oil soluble form of vitamin C, UV protection, skin lightening, MMP Inhibition, collagen synthesis and protection
Camellia Sinensis (Green Tea) Leaf Extract– Provides bacteriostatic benefit (keeps healthy bacteria present)
Snap-8™ (Acetyl Octapeptide-3)— Reduces line depth & smoothes
Tocopheryl Acetate— a natural form of stable Vitamin E and is oil-soluble.
Ubiquinone (CoQ10)— Assists in copper utilization to give heightened ROS protection.
Glycoderm™ (P)— a combination of water, honey, phospholipids, sphingolipids, and hyaluronic acid. It restores the lipid barrier of the epidermis and increases water absorption in the corneocytes by adding natural moisturizing factors. It plumps and moisturizes the skin and improves the skin's ability to hold moisture.
Honey has humectant properties that keep the skin moist.
Hyaluronic Acid— naturally occurs in the dermis of human skin and has water binding properties. It increases skin suppleness and strength, strengthens the intercellular matrix, and smoothes the skin.
Phospholipids— constitute cells and modulate their fluidity and permeability.
Sphingolipids— bind oil and water & balance surface lipids
Matrixyl Synthe' 6— a combination of glycerin, water, hydroxypropyl cyclodextin, and palmitoyl tripeptide-38.
Cassia Alata— Supports the natural repairing process of cells.
Lipomoist— a trade name for carrageenans (chondrus crispus) and is a highly moisturizing molecular film that enhances elasticity through cohesion of the extra cellular matrix. It works on adding hydration, elasticity, and firmness to the skin.
IconicA (Retinal/Retinaldehyde) 2.5% converted into 0.1% Retinaldehyde is a stable and non-irritating form of Vitamin A
Niacinamide (5%) Vitamin B3
Carnitine (L) transports essential fatty acids into mitochondria for energy production, increasing skin turnover and limiting trans epidermal water loss.
SymWhite TM (Phenylethyl Resorcinol) is an effective skin brightener
Bisabolol (L-Alpha) reduces sensitivity and soothing skin irritation.
Share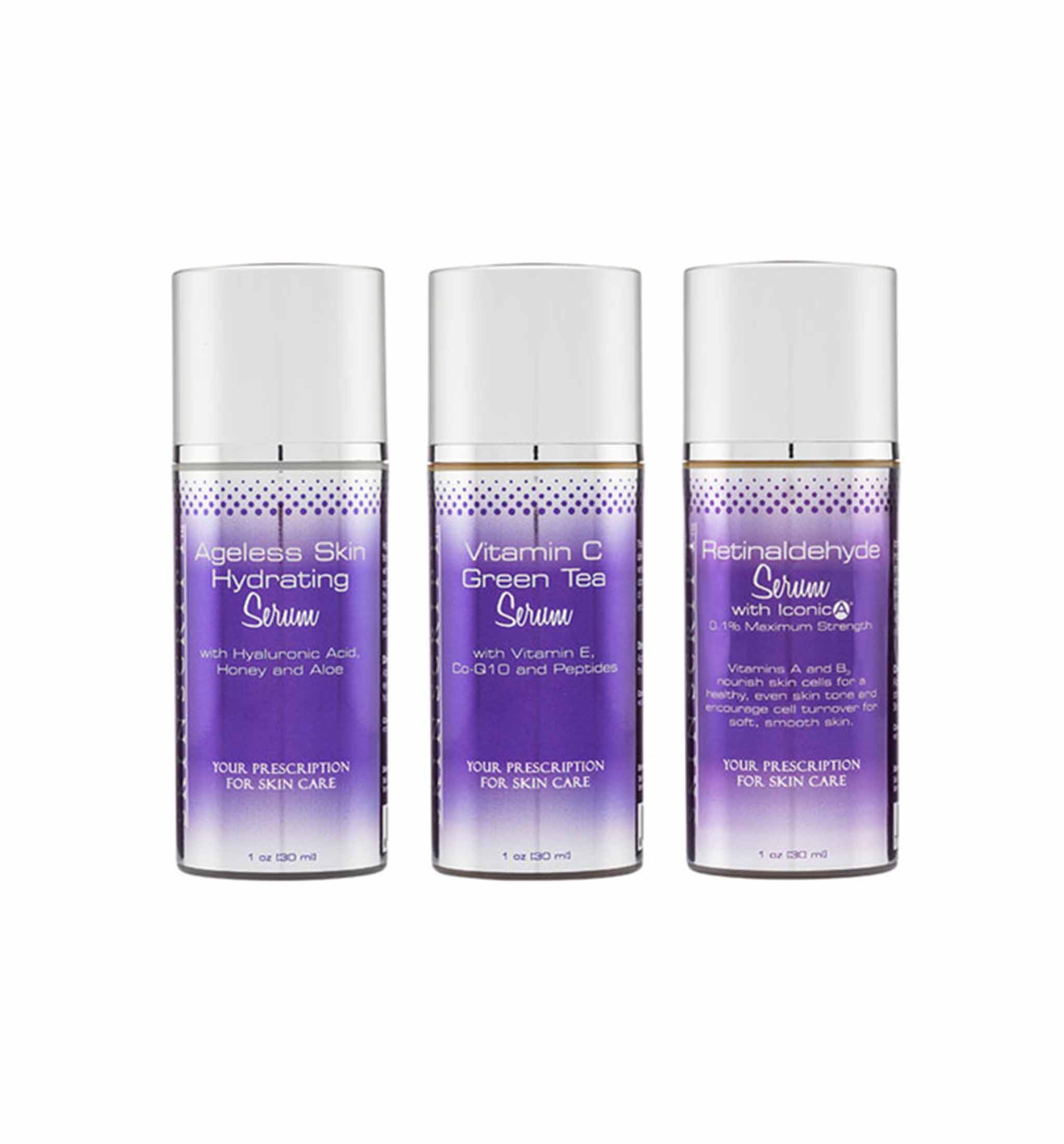 Rave Reviews