Skin Script Age Defying Kit with Tri Peptide
Regular price

Sale price

$100.00
Skin Script Kit with Tri-Peptide Eye Cream
Benefits:
Lessens fine lines
Brightens the skin by lifting discoloration
Smooths the tone and texture of the skin
Firms fine lines around the eyes
Kit Includes:
Vitamin C / Green Tea Serum
Skin Hydrating Serum
Tri- Peptide Eye Cream


Suggested Skin types and Conditions:

Skin Script Kit is great for someone experiencing premature skin issues or wants to reduce fine lines. Including the eye area.

Instruction for use:

AM

Cleanse with Green Tea Citrus Cleanser
Exfoliate with Retinol 2% Scrub 2-3 times per week
Apply both Vitamin C Serum and Skin Hydrating Serum to face until it has absorbed
Apply Tri- Peptide Eye Cream around the eyes
Moisturize with Acai Berry Moisturizer
Protect with Coola Classic Face SPF (browse our other product brands)

PM

Cleanse with Green Tea Citrus Cleanser
Apply both Vitamin C Serum and Skin Hydrating Serum to face until it has absorbed
Apply Tri- Peptide Eye Cream around the eyes
Moisturize with Acai Berry Moisturizer


We incorporated the following ingredients:


L-ascorbic Acid– is a water soluble Vitamin C that protects cells from oxidative damage, assists in collagen formation, and strengthens capillaries and cell walls. It is an antioxidant and encourages protein production by supporting processes that support healthy collagen and elastin fibers.
Magnesium Ascorbyl Phosphate— Water soluble derivative of vitamin C, antioxidant, stimulates collagen production, melanin inhibiting properties
Tetrahexyldecyl Ascorbate— Stable, oil soluble form of vitamin C, antioxidant, UV protection, skin lightening, MMP Inhibition, collagen synthesis and protection
Camellia Sinensis (Green Tea) Leaf Extract– Provides bacteriostatic benefit (keeps healthy bacteria present), antioxidant, repairing properties that limit damaged tissues
Snap-8™ (Acetyl Octapeptide-3)— a peptide that reduces lines caused in expression zones such as the forehead and eye zone.
Tocopheryl Acetate— a natural form of stable Vitamin E and is a potent oil-soluble antioxidant.
Ubiquinone (CoQ10)— known as the most efficient manner to protect the skin from lipid peroxidation. It reduces line depth, assists in copper utilization.
Honey has humectant properties that keep the skin moist.
Hyaluronic Acid— naturally occurs in the dermis of human skin and has water binding properties. It increases skin suppleness and strength, strengthens the intercellular matrix, and smoothes the skin.
Phospholipids— constitute membranes of living cells and modulate their fluidity and permeability.
Sphingolipids— balance surface lipids also emulsify and bind oil and water.
Matrixyl Synthe' 6— a combination of glycerin, water, hydroxypropyl cyclodextin, and palmitoyl tripeptide-38. It evens out skin and smoothes, stimulates the synthesis of the skin matrix and dermal-epidermal junction.
Cassia Alata— Supports the natural repairing process of cells.
Lipomoist— a trade name for carrageenans (chondrus crispus) and is a highly moisturizing molecular film that enhances elasticity through cohesion of the extra cellular matrix. It works on adding hydration, elasticity, and firmness to the skin.
Squalane— a major component of human skin surface lipids (or oils). It helps keep skin soft and healthy, and its antioxidant capabilities help protect. It facilitates the permeation of the active ingredients and prevents the loss of water from the skin, improving skin appearance and health.
Caffeine— stimulates and promotes healthy detoxification.
Jojoba Seed Oil— is an emollient plant oil that penetrates the stratum corneum rapidly to reduce water loss. It is quickly absorbed and is excellent for dry and mature skin. Acetyl Tetrapeptide-5 reduces puffiness in the eye area by stimulating removal of fluids in tissue.
Argireline®— listed as Water, Acetyl Hexapeptide-8. The effect of skin tightening is instantaneous, and the forehead and periorbital area show significant results. When applied to the skin, Argireline® relaxes facial tension, leading to the reduction in facial lines with regular use.
Palmitoyl Tripeptide-5— Tradename Syn®-Coll, is a synthetic peptide designed to stimulate the skin's natural mechanism to produce collagen
Lemon Peel Oil— inhibits tyrosinase activity and pigmentation formation.
D-alpha-tocopherol (Vitamin E)— the natural, chirally correct form of Vitamin E.
Share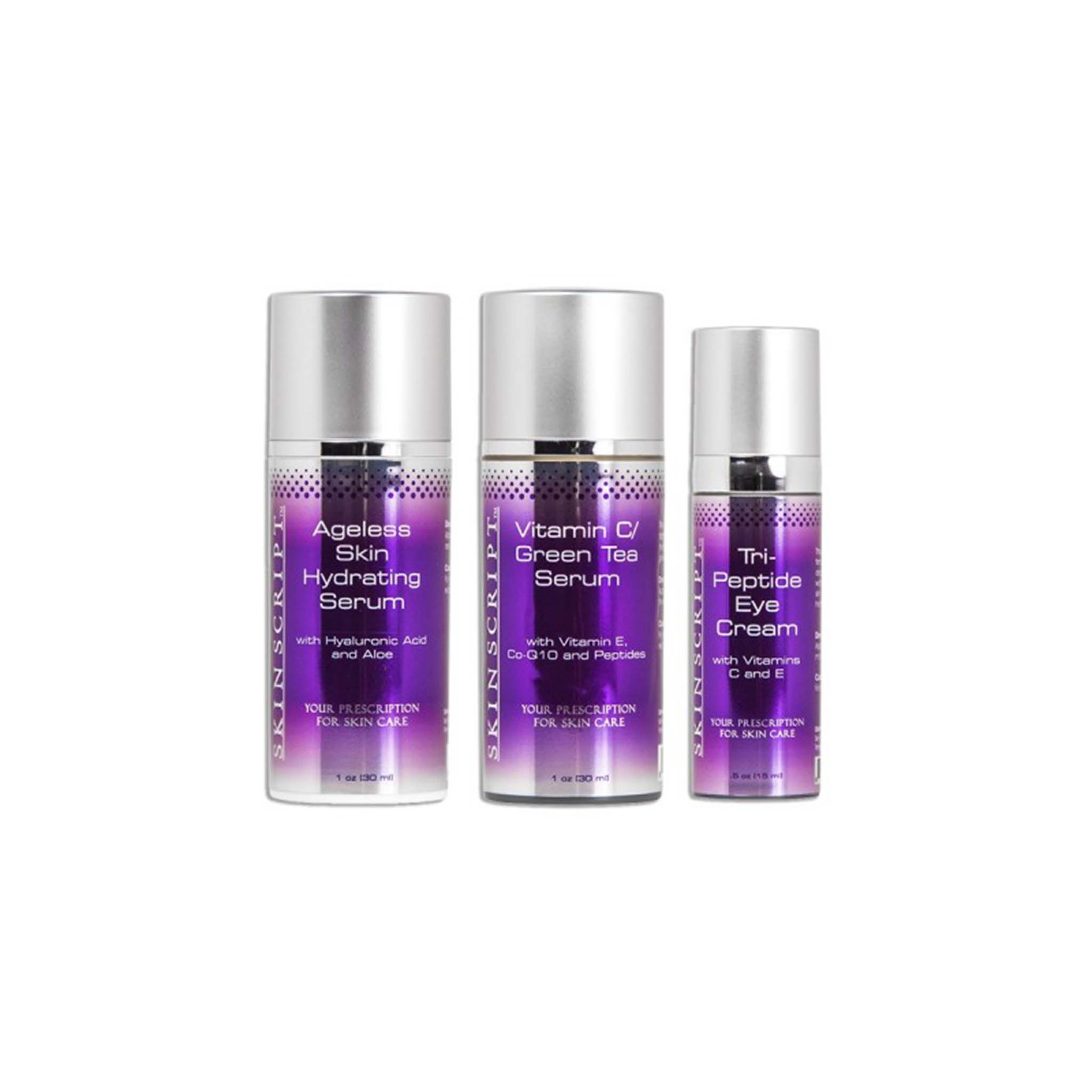 Rave Reviews